Contact: creepingbent@googlemail.com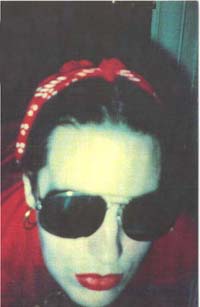 The Secret Goldfish
Creeping Bent, aka The Creeping Bent Organisation is an independent record label set up by avant provocateur Douglas MacIntyre in 1994, based in Glasgow, Scotland. Creeping Bent was officially launched with a maxi–media event at Glasgow's Tramway Theatre on 12 December 1994. The event was called A Leap Into The Void (BENT 001), in homage to Yves Klein, and featured film / theatre / pop ….made - up by a variety of artists.
Over the years Creeping Bent has focused on audio & visual stimulation, releasing music by an eclectic array of artists operating across multiple genres. Here is an example of some of the artists who have worked with Creeping Bent over the years; The Nectarine No9, Appendix Out, Found, The Secret Goldfish, Bill Wells & Isobel Campbell, Alan Vega / RCTJ, Adventures in Stereo, Bricolage, Future Pilot AKA, The Sexual Objects, Monica Queen, Fire Engines … There have been several highlights along the way, perhaps the most prestigious was being chosen by John Peel as the featured label when he curated the Meltdown Festival at the Royal Festival Hall… perhaps having Creeping Bent artists record 20 sessions for Peel's BBC Radio 1 show comes a close second.
GARETH SAGER released his debut solo album in 2009, 30 years after his first band the Pop Group first erupted. Slack Slack Music received great reviews across the board, well deserved too. NME : 8/10 – "full throttle agro – funk,..the disco Captain Beefheart,..mega.." Mojo : 4/5 - "post – punk maverick,...aural anarchy,..from chaos, true genius arises" Uncut : 4/5 - "kicks up a stink... rediscovered fire and brimstone" The Scotsman : 4/5 – "industrial strength jazz – punk" FAKE EYELASHES released their debut album (A Little Bit Of Bread And No Cheers) in 2011, an album of rural ruminations rather akin to the sad n' milky vibe of Nico's Chelsea Girl.
Similar to 0 things you like: